Waterfalls can make for an amazing backdrop to your engagement photos in Kananaskis. For this waterfall engagement photos in Kananaskis we hiked early to get the sunrise. Kananaskis is full of stunning waterfalls that have varying levels of hikes to access. ALL TRAILS APP is an incredible resource for searching and planning your waterfall hike. 
It is incredibly important to implement safety into any waterfall engagement session. Many waterfalls are large and have a sweeping undertow that can be deadly. When ever you plan to get into water of any body you need to check for hazards before hand. All Trails is good to check but researching any hazards in Alberta parks is a must. 
This session was built around safety. We researched the size of the waterfall and found was to be only a few feet deep at this time of year. My couple can prepared with addition clothing and blankets to quickly warm up. Mountain waterfalls are very cold and can cause your temperature to drop fast. We limited the time spent in the water and jumped out quickly. 
As a professional photographer I have an underwater housing for my equipment. This allows me to drop my camera into the water to capture a top and bottom reflection. As seen in the photo below.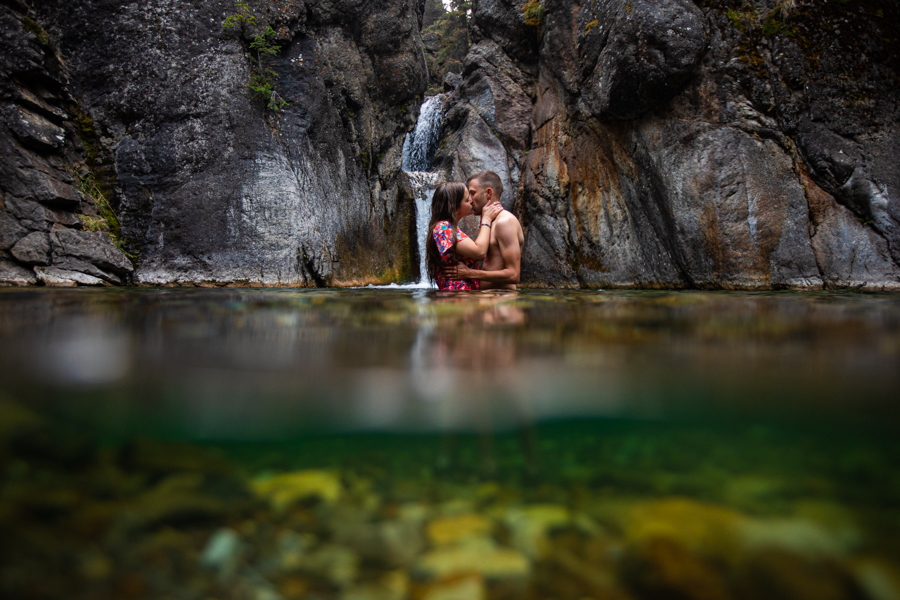 Underwater Couples Photos
Dive housings and waterproof cases are ideal for working with underwater couples photography. They are extremely fun and create amazing photos. Underwater couples photos are different and creative. Check out my Cuba dive trip! Cuba underwater photography. 
Waterfall engagement photography
Thank you for viewing my engagement photography. I work hard to create fun and exciting engagement sessions. Safety is always a first concern when it comes to adventure sessions. Please reach out with any ideas or amazing engagement plans. I will be happy to help with my ten years of experience and capturing hundreds of couples.  Take a moment to explore these other adventure sessions in the mountains. 
Hiking with your pups and going on an adventure is an ideal engagement session – https://colehofstra.com/canmore-engagement-4/
Do you and your partner love to ski and hit the slopes? This ski engagement session is adorable! – https://colehofstra.com/skiing-engagement/